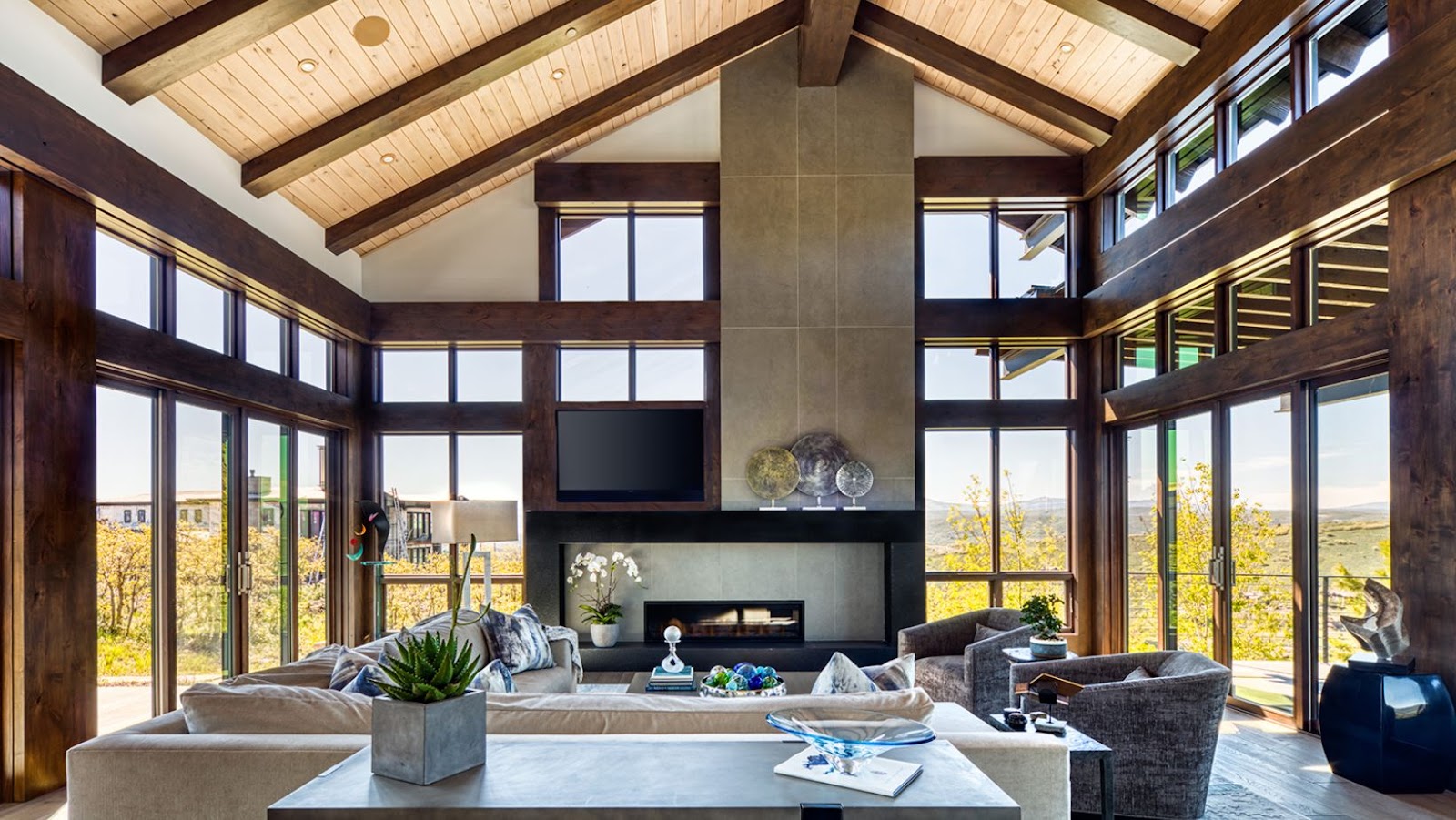 When working with leading custom home builders and interior designers, there's much to consider as you plan your space. Custom home builders work with interior designers to create both functional and aesthetically pleasing living spaces. There is a process which needs to be followed when working with a custom home builder and designer to ensure that everything is desired fits within the given budget and timeline.
The initial design planning should involve both the builder and designer discussing desires, expectations, needs or wants for the new space. The conversations should encompass topics such as style, floor plans, materials, installation of any custom finishes or finishings, while also considering any pre-existing items that may need to be mapped out within the new build.
A budget must also be established between the entirety of the team in order for high-end selections without going over budget limits. The overall goal is for all involved parties to be satisfied with their outcome of the project—fully understanding this will help you succeed in creating a stunning eye-catching place!
How do custom home builders work with interior designers
Before construction of a home begins, it is important for custom home builders to work with interior designers to ensure that the home is built according to their vision. During the pre-construction planning stage, the design and layout of the home are discussed and finalized.
Custom home builders and interior designers will work together to ensure that all of the details, from the placement of windows to the type of flooring, are taken into consideration. This process allows for the design of a beautiful and functional home that meets the specific needs of the homeowner.
Establish a Budget
Before starting a custom home project, it is important to establish a budget. This ensures that the builder, their team and the customer are all on the same page when it comes to cost and expectations. Working with an interior designer can help a homeowner determine what works best for their needs and budget, especially if they plan on selling the home in the future.
The initial pre-construction planning meeting should include a detailed discussion of finances. This is where all parties can get a better understanding of expense management from start to finish. The builder's team and interior designer should review available plans and explain which costs are fixed (such as foundation costs) as well as additional expenses that may arise due to unforeseen obstacles or preferences (such as changes in floor plan style). Your advisor should also provide rough estimates for labor, materials, design services, construction permits and consultant fees throughout the duration of construction. Finding out the exact number prior to committing can help everyone involved stay ahead of potential costs and make informed decisions moving forward.
Choose a Lot or Site
When working with a custom home builder, the first step is to choose a lot or site for your new home. Depending on the location, prices and availability will vary. This decision will likely depend on your budget and what you need in terms of space for your new house or additional amenities like pool access and waterfront views. The best lot or site will also depend on your plan for the new home construction itself. Your builder should be able to offer guidance on this decision as well as provide information on zoning regulations, local ordinances and building requirements.
Once you have chosen the desired lot or site, you'll work with your custom home builder to determine the size of the construction needed while considering both the lot size constraints and financial considerations. Different jurisdictions may have different restrictions in terms of allowable square footage so it is important to be aware of those limitations up front. Once a plan is determined, it should also be noted which parts of the construction are within zoning regulations and your desired design elements that must abide by those regulations while still being within budget parameters determined by you and your builder. Once these details are established, then plans can begin for all design elements including features such as floor plans, rooflines, siding choices or additional structures (e.g., detached garages etc.). You may want to bring an interior designer into this process if necessary in order to develop a cohesive aesthetic throughout the house from fixtures to furniture and color selection since most custom home builders rely solely on feedback from their clients during this process. Working collaboratively with experienced professionals is key in order to ensure that construction moves forward successfully towards completion!
Develop a Design Plan
Before construction can begin, it is important to make sure the vision for the custom home matches what can be achieved within the budget and timeline. The process begins with an initial consult with a custom home builder and interior designer, who will work together to develop a design plan.
The beginning stages of planning will involve:
Analyzing the area
Planning for layout and installation of utilities
Finalizing design plans for all components inside and outside of the house, as well as deciding on quality materials
Establishing a clear budget sets realistic expectations so there aren't unforeseen costs later in the process.
Finalizing any external contracts such as architecture or engineering
This procedure helps ensure that interior designers are aware of how much space they have to work with before moving into detailed designs. With measurement information from architects our interior designers can begin their work by creating 3D models that illustrate what their ideas would look like in real life. With a comprehensive vision finalized and accurate measurements in place, construction can begin!
Construction Process
The process of leading custom home builders when it comes to working with interior designers to create a beautiful and unique custom home is a fascinating one. Every custom home builder has their own process, but the fundamentals are the same.
In this article, we will discuss the entire process from the initial design phase to the construction and completion of the home. We will explore how custom home builders work with interior designers to achieve their desired results.
Secure Permits and Approvals
Once the homeowner has signed off on the blueprints and the design layout for a custom home, the next step in the construction process is to secure all necessary permits and approvals from local governing bodies. The builder will work directly with local regulatory bodies to ensure that all of the requirements and regulations associated with construction are met. Depending on local zoning codes, this review process may require additional applications, inspections, variances or other paperwork in order to meet regulations imposed by the municipality or other agencies. During this stage, it is essential that all paperwork be completed correctly so as to avoid delays when it comes time for actual construction.
The builder will also obtain any necessary signatures from government-approved vendors that guarantee standard quality for building materials and components such as windows, insulation and wiring in order to secure approval from code-enforcement officials. Additionally, contractors hired by the builder may need proof of insurance in order to comply with city regulations before beginning work. This can be organized through an insurance broker or insurer of choice like a homeowners' association.
For example, if labor performed on site includes plumbing and wiring repair or installation services then particular attention must be paid to required permits associated with those activities for:
proper liability coverage during building construction
warranty protection once completed.
Select Materials and Finishes
Selecting materials and finishes for a custom home begins with you and your interior designer. During a design consultation, you will discuss your aesthetic preferences, lifestyle needs, and budget. After developing an initial concept, the interior designer will create a design board or mood board to capture the overall design style of the space. Once the design concept has been confirmed by you, your custom builder will provide recommendations for materials, colors, accessories and finishes that can help bring your vision to life.
Your builder may choose to hire an architect or draftsman to develop floor plans that incorporate the interior design selections. Your custom home builder will then review their plans with licensed contractors who can provide specific cost estimates for each item on the floor plan in order to determine total cost of building materials and installation. Depending on your global budget, some items may need to be altered or replaced in order to bring costs down while keeping quality high.
Once all materials have been finalized through careful budget analysis and discussions between you, your builder, and designers; both pre-fabricated components (such as molding) or previously chosen items can be ordered from suppliers. Additional steps in the selection process are often necessary when choosing complex appliances (such as gas fireplaces). These decisions must be reviewed by regional code officials within local jurisdictions before installation can take place for safety reasons. Then comes a final review of professionally installed trim work such a baseboards and door frames prior to completion of construction phase one: designing and building!
Hire Contractors and Subcontractors
Hiring experienced contractors and subcontractors is one of the most crucial stages in the whole construction process. The builder will carefully choose qualified individuals that are familiar with their specialty and fit into the industry standards. Depending on the nature of your project, you may need to hire specialized professional services such as mechanical engineers, civil engineers, surveyors, plumbers, electricians, masons, roofers etc. They will be coordinated by an independent quality auditor who will guarantee that all work is carried out properly and according to safety regulations.
Design is an integral part of the build process which involves converting initial designs into visual sales tools for homeowners. Interior designers can help with this process by developing interior plans based on a builder's design brief. Once drafts are approved they go onto preconstruction drawings which typically include a detailed floor plan with furniture placement along with 3D modeling and finishes like floor coverings, countertops, wallpaper or tile installation just to mention a few details. During this stage the design team will collaborate closely with suppliers to ensure materials are selected correctly and sourced in time for construction completion.
Working with Interior Designers
When it comes to custom home building, partnering with an experienced interior designer is an important step in completing the project. A good custom builder will have a working relationship with interior designers, who will be able to help create the perfect home environment. Working with an interior designer allows the custom builder to provide their clients a truly unique home, designed to fit the clients' exact needs and specifications.
Understand the Designers' Role
Before being able to work successfully with interior designers and architects, it is important to have a firm understanding of their roles. Interior designers are responsible for creating aesthetically pleasing, functional, and comfortable interior spaces while taking into consideration the desires of their clients. This includes selecting insulation materials, objects of décor, furniture and fittings, as well as developing a good understanding of cultural or religious elements that could be incorporated into the design.
Interior designers often consult with experienced custom home builders to ensure that the design ideas are incorporated into the home's construction process. Custom home builders play an essential role in completing a successful renovation or new build by ensuring that all elements of construction adhere to industry standards. Their understanding of building materials requirements can help reduce costs and undertake major remodeling tasks such as adding additional flooring or ceiling heights.
Once the details of a project are finalized between a custom home builder and an interior designer, both should be able to decide how best to move forward in terms of:
Reaching design goals (i.e., details for dimensions, fixtures)
Meeting deadlines for completion
Keeping an accurate budget throughout the process
Identifying which permits may need applying for or necessary legal permissions that may need acquiring
Considering insurance needs when it comes time to start work on-site
Having transparent communication between both parties
Deciding on project duration
Review Design Ideas and Suggestions
It is important when working with an interior designer that both parties understand the process of designing and executing a custom home. After the initial meeting to discuss your vision and make sure expectations are clear, the interior designer will gather all of their ideas and present them to you in either a physical or digital portfolio.
This may include items such as samples of fabrics, wallpaper, paint swatches, furniture options and any other source materials they have gathered while researching. Additionally, they may provide sketches of space planning concepts and 3D renderings of how the rooms will look once they are complete to help visualize the final product. You should take the time to thoroughly review each item presented by your interior designer in order to make sure you understand what is being proposed for your custom home project.
In some cases, designers may have innovative ideas or items that have not already been discussed in your initial meetings. These suggestions should be taken into consideration as it is beneficial for you to be open minded when it comes to design possibilities during this phase so that adjustments can be made if necessary before construction begins. Ultimately, you should also ensure that proposed designs meet all design requirements for local building codes and regulations prior to ordering any materials/furnishings specified by the designer's plans.
Make Final Decisions on Finishes and Materials
When it comes to custom home building, the process of making final decisions on finishes and materials can be complex. Homeowners must select materials to use in each area of their home while ensuring they're within budget. The best way to do this is by working with interior designers, who are familiar with construction materials, costs, finishes and other related aspects of the project.
Interior designers will provide guidance as homeowners make choices from tile, flooring and paint colors to trim selections, furniture and accessories. There may also be some customization involved in selecting fittings for faucets, doors and windows. The designer can help Homeowners visualize how a space will look with all the elements combined. Moreover, he or she can explore how switching from tile types or changing fabric colors can change the entire tone of a room.
Furthermore for long-term design solutions, interior designers help create spaces that fit aesthetics preferences along with functionality needs. They are skilled at creating flow in rooms that empower occupants to move easily between activities while also creating striking visual breaks which draw attention throughout the space without being too overwhelming or disjointed. Their expertise in specifying products such as fabrics/materials and selecting hardware will ensure functionality as well as beauty within a given budget; they also help anticipate tear down processes during renovations by suggesting methods of replacing old fixtures that take into account underlying construction processes during replacement such as reinsulating walls after new light switches are installed or more practical matters like using non-combustible material near stovetops when replacing countertops during kitchen remodels.
In short, working collaboratively with custom home builders and experienced interior designers helps Homeowners make confident decisions about their builds so that all decisions – aesthetic or practical – are made on time and within budget constraints for a stunning end result every time!
Conclusion
Overall, working with a custom home builder and interior designer can be one of the best experiences for homeowners. The collaboration between a custom home builder and an interior designer ensures that the homeowner's needs and vision are met, while also creating a beautiful home that suits the style they desire. By discussing ideas and possible changes throughout the entire process, both parties can work together to ensure that their dream home turns out exactly how they want it.